A 'classified' site that's finally all about YOU and your customer.
RVingPlanet is a different kind of 'classified listing site'.  Perhaps John D. Rockefeller Jr. said it best with...
"The secret of success is to do the common thing uncommonly well."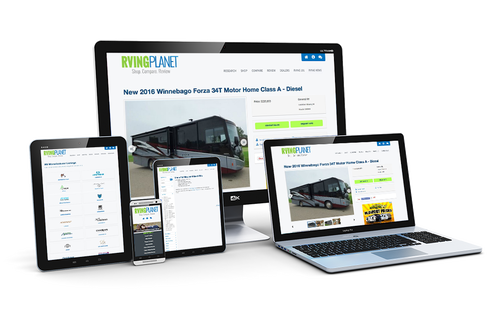 More Leads through Innovation
Connecting RV shoppers and owners to YOUR dealership. That's our goal in all the website techno mumbo jumbo we do behind the scenes … it's connecting folks looking to buy RV products and services with your dealership.

Earn leads on all you are authorized to sell, not just what's in stock at the moment. Stock levels can go up and down a bit so we've invented a wonderful way to keep all products you are authorized to sell in front of interested shoppers … all the time!

Provide 'air cover' for your dealership during the selling process. Once a website guest inquires about a unit you have for sale, RVingPlanet continues to draw them into the RVing lifestyle through proprietary engagement guides, checklists, and other tools.

Sticky visitor features like Favorites, Compare, Reviews, Research tools and more! More than just a 'rv listing service' the RVingPlanet team continues to learn who the RVer is, what's important to them, what helps them meet their needs and wants. Then they put that knowledge to good use by helping them achieve and live their RVing dreams.

Most 'RVing community connected' You get plugged into our proprietary, innovative affiliate program. For example when you partner with RVingPlanet.com, your inventory is also listed on www.usedrvsforsale.com and an ever growing list of other influential RVing specific websites. All driving buyers back to RVingPlanet where your dealership is repesented.

Innovative RV website software technology powered by InteractRV.com. The folks at InteractRV are the most trusted name in all of the RV industry when it comes to website technology services and we've earned an exclusive partnership with them.


Why might RVingPlanet be a Good Choice for my dealership?
Simple, easy services and pricing. Easy on the budget. Pay only for RESULTS! We've left the expensive, complicated, unit based, add-on's pricing model to the 'other classified' sites.

Partnership approach vs competitor approach. It takes well well run, good dealerships to make the whole industry work well and our goal is to help you be successful serving RV buyers and owners. We do our best to work with you, not against you.

Admission to the 'RVingPlanet Approved' program. Elevate your online reputation with your own RVingPlanet Approved website badge.

Exclusive offer for Rvillage.com, the leading RVer's social website platform. Icing on the cake is getting your 'for sale inventory' in front of the only legitimate RVer's social web growing membership of 43,000+ current RV owners.

More Opportunities for you to sell RVs!



Interested in Learning More?
Have a question?  Want to get started?
Can't Wait? Give Us A Call: 1-888-812-0835



Frequently Asked Questions
Why are other inventory listing sites more expensive?
Our guess is that their primary reason for existing is making money and that's what drives them. While we need to be profitable, our primary focus is helping the RV shopper and you, the dealership, be successful.

Is there a long term contract?
No, we don't offer long term sign-ups at a discount just to 'hook you in'. The RVP monthly price is easy on the budget and you can cancel at any time.

Does it work well on mobile phones and other small screen devices?
Yes, RVP is a mobile responsive site that works seamlessly on all devices and screen sizes.

Who is RVingPlanet.com?
RVingPlanet.com has been diligently working since 2008 to provide the most comprehensive RV information to RV shoppers and then connect them to local dealerships who are best positioned to help and assist them. You can read more about us here.